An unfortunate series of decisions
Once upon a time I fell in love with chess. I was never very good at it—because I was too lazy to practice and didn't have the patience to study it in any depth—but I loved the romance of it and appreciated its place in history, art and culture such that I began collecting chess sets.
On a recent visit to Singapore, I played my (then 7-year-old, now 8-year-old) niece. I hadn't played in about 15 years and she had highly suggestive coaching from my brother (who once beat Australian grandmaster Ian Rogers in a simultaneous match when he was at high school). She won, but not before I'd made a couple of silly moves, followed by incredible solutions that turned out to be not to my advantage after all.
I was reminded of this match recently when I decided on a whim that I hated my desk. As a freelancer who spends both working and non-working hours with this piece of furniture, liking one's desk is an integral part of both the creative process and ergonomic sanity. It had to go.
The desk in itself wasn't offensive. It was an IKEA Micke corner workstation with a couple of small shelves, file drawers and nooks to keep business cards and the like. It was just that suddenly I noticed how my 27-inch Macbook Pro screen only barely fit in the corner and that the vertical struts of the shelves were constantly in my periphery. Once I noticed it, I couldn't help but notice it all the time.
I was due for an update anyhow. It'd been years since I'd bought office furniture and now that I'd become a full-time freelancer it was all gloriously tax deductible. I set aside a budget of $500 for a desk and a chair but then decided I didn't want some shitty chipboard construction of a desk. Unfortunately it turns out that the reason shitty chipboard constructions exist is because they are cheap and solid wood is, well, not.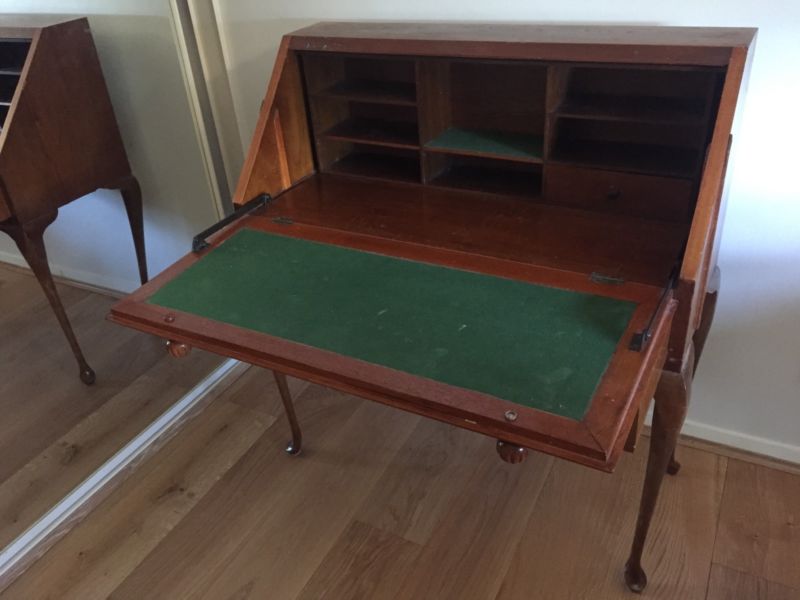 Goaded by Google I stumbled into Gumtree where there were dozens of solid wood desk options well within my budget. Buoyed by this, I contacted a handful of sellers to gauge availability. I was particularly taken by two. The first was a large solidly constructed number with practical shelving and drawers. The second was a vintage folding bureau in Queen Anne style, far too small for my purposes but beautiful for writing on. They were both $100, far below my budget. And all I could think was: ¿por que no los dos?
Regrettable decision #1: buying two desks when I could only fit one in my office.
No matter, I thought. I could have the serious, practical one for the office and stash the Queen Anne one in my tea den, which would thus become my creative writing and correspondence desk on account of it being in my garage and out of wi-fi range and therefore immune from internet-fuelled distractions.
Regrettable decision #2: not having the desks delivered.
There's a GoGet van down my street called Tanzi and I employed the services of Tanzi twice that week to pick up Emmanuel (serious desk; location: Anzac Parade, Kensington, a hella busy road) and Serena (creative desk; location: Pacific Highway, Lane Cove, a hella busy road) at a cost of something like $28 for each two-hour session + whatever the kilometre charge is for my GoGet level these days.
While $80-ish doesn't seem like a lot to pay for picking up these bargain desks (recall I paid $100 for each of them), the opportunity cost from not working had now reached four hours, not counting the amount of time spent searching for furniture and liaising with the sellers.
I then encountered another problem: my partner and I did not have the muscle between us to carry Emmanuel (length: 130cm; approx weight: 70kg) to my office. It's three stories up, which is six flights of stairs and five turns, plus we had to bring Micke down first. If I'd had the desks delivered instead of enthusiastically picking them up myself, I could've avoided this scenario.
I turned to Airtasker for help, offering two people $35 each for the task of bringing one desk down and hauling one desk up—a half-hour job, I wrote—which somehow spawned a bunch of people offering $230 for the task. Confounding.
After Airtasker failed, I started ringing around some local removalists I thought might be interested in the tiny job that could be done before or after another in the area. The best offer was $150. I then hit on one that advertised 'no job too small' and was quoted $60, which I took. For the record, the job took 15 minutes.
Regrettable decision #3: not measuring the right thing.
When I expressed interest in Emmanuel, I asked the seller for the dimensions of the footwell. I also took the time to measure its length to ensure he'd fit in the smaller space vacated by Micke. What I failed to measure was the height and depth of the upper shelf. In effect, it meant that either my monitor had to sit too high or too close to me. I tried working both ways and was rewarded with headaches and a sore neck.
What I needed was an underdesk keyboard drawer. Officeworks seemed to be the only major retailer selling them and it came at the lofty price of $109, internet purchase only.
(There is a minor interlude here that involves me buying the drawer on a 'Click and Collect' basis, dashing the 15-minute route from Chinese class at USyd [finishing time: 8:30pm] to Glebe Officeworks [closing time: 9pm] to pick it up only to find I hadn't actually bought it.)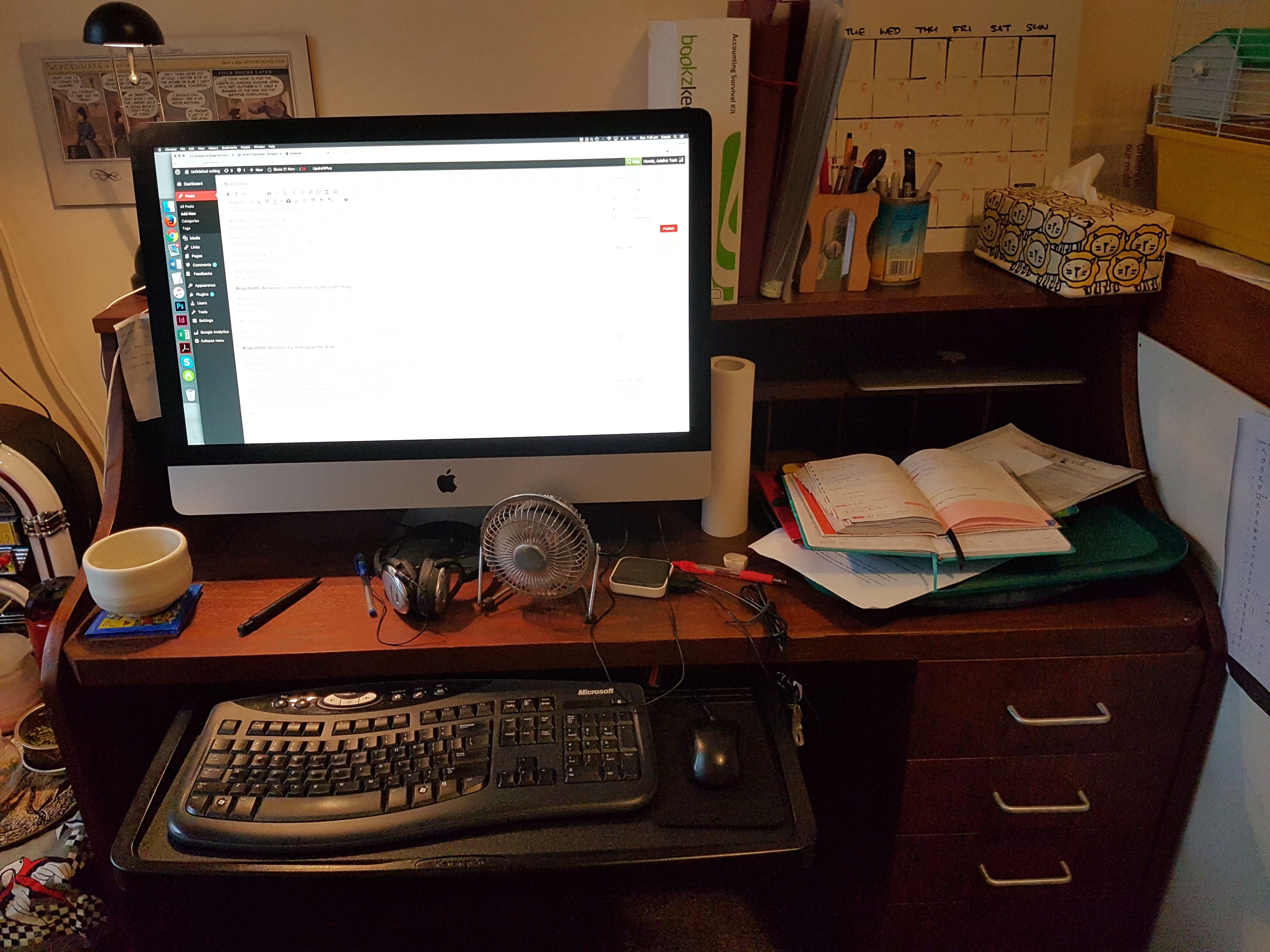 Regrettable decision #4: setting up the desk.
As soon as Emmanuel arrived I went about filling his drawers and arranging all my accessories on him. When I finally received the drawer (thank you Officeworks, for the next-day delivery) I realised that it was going to have to be screwed in upwards, which is to say I'd have to lie down under the desk and make sure the screws went in perfectly vertically against gravity into solid wood while also holding the keyboard in place. Now, I'm not much of a handyperson at the best of times so this to me was like being asked to paint the Sistine Chapel.
All of this would have been avoided had I not set up the desk. If he'd been naked, I could've flipped him upside down and finished the task the easy way and we'd all be happy.
During these two days, I got sick and weak. I was too lazy to unpack Emmanuel (and clear a space in my office behind him big enough to accommodate flippage) and whenever I lay down under the desk, I began to wane.
Eventually, brushing aside pride and several decades of feminism, I employed my partner to do this task for me. His method involved screwing things out of order and using a drill to make guiding holes, two things I would never have thought to do having too much faith in the technical copywriter of the instruction manual and too little in my ability to avoid drilling a hole right through the desk.
So now Emmanuel is complete.
Cost of my folly
Emmanuel = $100
Serena = $100
GoGet fees = $79
Removalist fees = $60
Keyboard drawer = $109
(+10 working hours lost, unaccountable)
TOTAL = $448
Only $188 of which is tax deductible. And I still have to buy a chair.
(P.S: Does anyone want a free Micke workstation?)
Lessons learnt
I don't employ strategic thinking for small things in my life and I rarely employ it for big things either. Somehow, though, fortune smiles down on me. What I lost when my niece beat me at chess, I won back in spades in bonding with her. Accordingly, whatever I lost in time and money on this stupid deskapade, I still ended up with two beautiful, functional pieces of furniture I'll treasure for a while yet.
So there are no lessons learnt, really, I'm incorrigible like that. Except for an iteration of a lesson I forget sometimes, that things will work often out in the end.