Rituals begin in the stupidest ways. One visit you might find something cool and then next time accidentally stumble upon it again, only to find that on subsequent visits you look forward to having something familiar in a place where you don't live. It feels like being a local.
Realising this makes me hate 'tradition' as an argument. After all, the thing you now call tradition was once new and treading a well-worn path just closes you to other opportunities. So I lay this bare: I ritually do these five things when I go to Melbourne, but I'm aware that I need to be open to the new as well.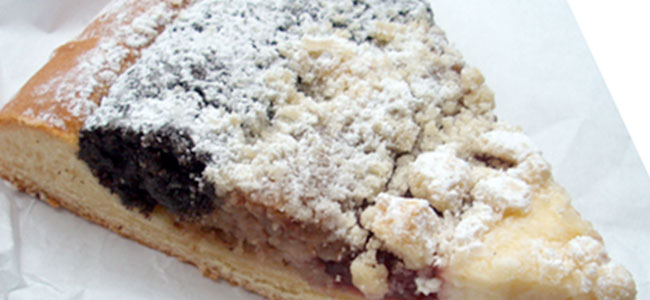 1. Kolace from the Queen Victoria Market
I don't know the name of the bakery, but enter at the McIver's teashop doorway and it's the first bakery in that aisle. Opposite the popular borek place. It sells a range of baked goods, but I only have eyes for something I have never seen anywhere else: a kolace. It looks like a sweet pizza crossed with a delicious archaeological dig, just layers of yum from cherry to custard to poppy seed paste.
Since I usually buy some tea from McIver's, it's not too far to go to grab a borek for lunch and a little (big) dessert for afterwards. The last couple of times I've bought a kolace, it has been out of habit rather than need. I count my mealtimes in Melbourne like a miser counts his money, not wanting to miss one, but greedy for more even if I'm sated. So I've put the kolace in my bag for later, only to pull it out squashed and slightly stale at the airport before I board the flight home. But no other pre-flight snack will do.
2. International Cakes (183 Lonsdale Street)
On one of my first lengthy stays in Melbourne I spent 12 days in the CBD: four in the YHA on Flinders St, four at the Hotel Grand-Chancellor and four at the Vibe Hotel. While at the Grand-Chancellor, I came across this mostly Greek dessert cafe. I was attracted to its extensive range of beautiful looking biscuits, cakes and slices, its very simple decor and the fact it was open late. If I find myself in this corner of the city, I go there for a hot chocolate and something on the side, usually a baklava.
The coffee has never been great; I have a feeling the servers are not trained baristas, and the baklava is probably the worst I've ever tasted, soggy after being drenched in syrup with no discernible flavour other than sickly sweet. And yet I will sit and nibble and sip while reading a book because that's what I've always done in this corner of the CBD.
Don't get me wrong, this place is terrible, and terribly overpriced, and I need a new ritual to replace it. But I've been here too many times to forget it and my feet know where to take me if I'm indecisive.
3. Penguins at St Kilda
Just to prove that not all my rituals are edible, if I have an evening off I take the tram down to St Kilda, eschew the cafe strip on Acland Street and head straight for the pier. The walk is long and, most nights, accompanied by mediocre rock music from a nearby restaurant with its bass widening across the water. About halfway up there are little resting huts on opposite sides of the path that look like bus stops. This is around the point where sounds from the shore have dissipated and you can hear the lapping of the water against the pier.
A bit further up is the teahouse, a kiosk that was renovated in 2003 after a fire burnt down its historic predecessor, which is always closed at the time of night I visit. Beyond that is a long pile of rocks that serves as a breakwater and a habitat for the fairy (little) penguins. The secret to seeing fairy penguins is to shut up and sit or stand silently focused on the gaps between the rocks where they will emerge, shake themselves out and then yell at each other. If you're lucky you'll see them show off for one another.
The first time I took my partner down there, he tried to take a photo (sans flash, of course). I told him to stick it in his memory hole. There are special moments you need to leave to the night, never to be reviewed except in your head and those of the people you shared it with. Seeing the penguins is always in that category. It's never more fun to take a photo.
4. Zine binge at Sticky Institute
Being from Sydney where zine culture is best described as 'underground' (and not in a cool Berlin nightclub kind of way, more like a wombat hole kind of way), it's hard to get a hold of those precious stapled pieces of people's lives. Apart from the Sydney Writers' Festival zine fair, which is fortunately now an established part of the program, my two most reliable sources of zines are from Sticky Institute in Melbourne and the Sunday fair at Newcastle's This is Not Art Festival.
The problem with the SWF and TINA events is that they are often hijacked by things that are, well, not zines. Don't get me wrong, I love maker's markets and emerging designer wares and I do drop cash on these stalls, but there are so many ways to sell a necklace and there are so few ways to sell a zine (without giving most of the content away) that I think it's kind of rude to sell jewellery instead of photocopied genius. So I go to Sticky Institute because it is full of zines and I spend $100 on the latest works that take my fancy and I walk away happy because it will all fit inside my bag and I won't have to pay to check in my luggage.
5. Hudson's coffee at the airport
Hudson's is a Melbourne coffee chain with coffee that is not as bad as Gloria Jeans but not quite as good as the average Melbourne cafe (a pretty high standard though, which means the beverages are at least palatable). It makes up for the shortfall by offering quite decent flavoured coffee. I'm a sucker for a white chocolate mocha, even though it has a zillion kilojoules, so I'll get one at the airport Hudson's if I have time before boarding. It's now a thing.
Until my recent visits, however, I didn't realise that there was only one Hudson's in the domestic airport, and that it was positioned on the Virgin side. My last two flights being with Jetstar, I've had to contemplate getting an expensive coffee at the cafe/bar they have there and risk having a bad coffee. One thing you have to say for chains is that at least the product is consistent. Both times I opted out of a caffeine fix and instead pulled out a squashed, slightly stale kolace for dinner.
Ritual contenders
So I've been looking to replace my ritual visits to International Cakes. Here are some contenders:
Do you have a ritual when you revisit a place?