Hello Move-ember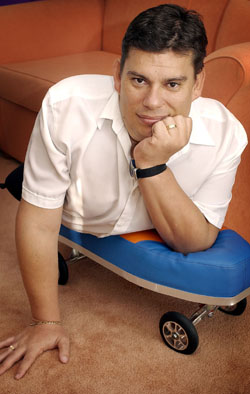 John Coutis is a man with no legs. Because he has no legs, John has endured a number of hardships in his life. On the plus side, dealing with his affliction has also enabled him to become a speaker on the international circuit.
I met John when I was interning at Pan Macmillan in my last year at uni. He was in Sydney to promote his book From the Ground Up and I was shadowing him and his publicist from interview to interview at various radio stations.
Though I'm not really fond of the hardship memoir genre I did read the book eventually, yet the thing that stuck with me about John is that he refused to call himself a motivational speaker. His motto? "Motivation lasts for ten minutes… inspiration lasts a lifetime."
November marks the time of Movember, that month of hirsute upper lips grown to raise funds for men's health, and also NaNoWriMo (National Novel Writing Month), a curse for those of us in the southern hemisphere who've just come into brilliant weather and party season.
Fundraising and creative pursuits have something in common: they need both motivation and inspiration to work.
I mulled over this while trekking around Sydney Harbour as part of the Seven Bridges Walk last week. It's a 27-kilometre circuit traversing, yes, seven bridges of Sydney, designed as a fundraiser for the Cancer Council. In addition to paying the $30 entry fee, I raised the grand total of $61.50 (I'd like to thank Wendy Hanna and Dylan Johnstone who are the champs) and felt really terrible about it. I'm absolutely hopeless at raising money because I'm just not passionate enough about causes to turn my friends and acquaintances into donors.
What the Cancer Council does is worthy. We've all lost someone to cancer; I tallied several relatives and recently remembered that my high school captain died of leukaemia just a year after we graduated. And yet I just can't get worked up about it enough to incite the kind of behaviour that gets people giving.
Finding the why
Last month I attended the Australian Institute of Project Management's annual conference. The closing keynote was Dan Flynn from the Thankyou Group, which you may know has a range of products, including bottled thankyou water, that goes to projects in developing countries. Dan and his friends started a friggin' business so he could fund projects to provide clean water to areas in the world where there was none. Having a business means the flow of money to these projects would be more sustainable than asking people to donate again and again. And despite all the knockbacks and the obstacles the group faced, it continues to achieve more and more because they focus on the 'why'. Clean water saves lives. Everything else just pales in comparison.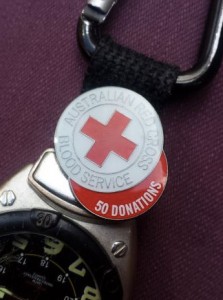 On Friday I donated blood, which I've done regularly since I was 16. At the compulsory consultation prior (where a nurse tests your blood pressure and haemoglobin levels to ensure you're not going to wane after donating) the nurse told me it was my 50th donation and for that I received a little Red Cross pin. In the waiting room I read a memoir by Glenn Orgias, one of the Australian Red Cross blood donation campaigners. Glenn was attacked by a shark while surfing some years ago and received 150 blood transfusions. Glenn realised it would take him a lifetime to give that blood back so he decided to use his profile to encourage others to donate, which would make more of an impact. Blood saves lives and you never know when you need it.
When I look back at my life, I realise I've been selfish all along. I spend so much of my efforts focusing on how I can help. I scrounge around for more money to give to charity or to my friends' and family's fundraisers, I volunteer my time to various organisations and once a quarter I get a big needle jabbed into my right arm so the Red Cross gets another pint of O positive. I should have, at least some of the time, been cultivating enough passion to generate motivational leverage to bring others along with me. I guess I was hoping all along that I could just lead by example but the number of actual people I've actually inspired into actual action is pitifully small.
Passionless moments
In film class we once watched a short film by Jane Campion called Passionless Moments, which is a series of vignettes about ordinary people doing quirky things or having whimsical thoughts but without motivation, inspiration, or passion behind them. This has been my life for some time now. Not in a bad way, mind. I'm not depressed and in some ways it's good to cruise for a little while.
I've never been excitable or a drama queen: my emotional amplitude is quite steady and that's the way I like it thank you very much. And yet, as I was combing through some old papers—letters and cards from friends, scraps of paper with ideas for stories scribbled on them, parts of novels, a romance serial I once wrote for a classmate, poems even—I realised that along the way I'd lost my creative writing mojo.
Writing is my job and I am happy that it is. What I do is easy and I'm good at it and I make a living. Past Adeline would be very pleased at how this has all turned out. But the amount of creative writing I've done in the past two years has trickled down to zero. Oh, you'll have seen me at writers' festivals soaking up creative wisdom every other month but my actual output, I am ashamed to admit, is zero. I haven't even completed so much as a blog post since May, though there are about 8 drafts lurking in the background at the moment.
Sifting through that trove of paper has somehow re-energised me. The act has reminded me of who I am and what I am meant to be. If I am to be a writer it is not merely to earn money writing for others. It is to write things for myself because I won't be able to sleep if I don't (that's love, right?), it is to write to understand the world, it is to write to get other people to see the world differently. I'm not yet good at creative writing. It will be challenging, but I should not be frightened of the work that is ahead.
Move it, move it
So here we are, November. After the hyperventilation that was October (did I mention moving house, National Young Writers' Festival, sister's wedding, AIPM conference, AISA conference?) you and I are going to be close. We are, in fact, going to get too close for comfort. You are going to nudge me out of my comfort zone and I am going to write my way into trouble and out of it.
Movember is mo-tivational November.
NaNoWriMo will remind me to be inspired, be creative.
Move-ember will be like the shunting of a reluctant train, painful but ultimately gets to its destination.
I now know my 'destination'. It will be to move for the sake of moving so I remember how to move. Only then can I aim for somewhere to go.