The Swimming Pool Gallery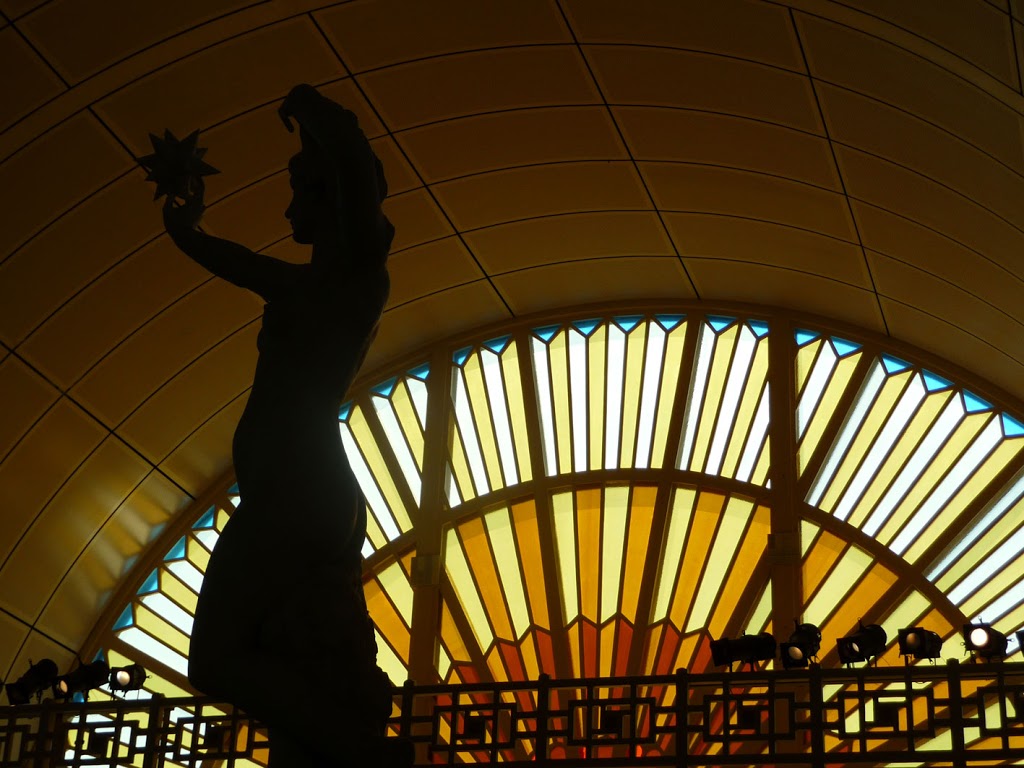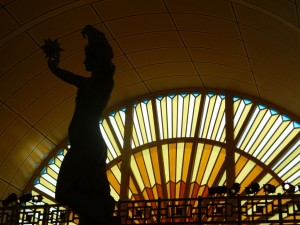 18th August 2012 (Lille, France)
Alan Hollinghurst once wrote a book about a library in a swimming pool. I don't remember a lot about the book, not even the metaphor, except that I liked it. I went to a museum of art in a swimming pool today. The musee was pretty much the only thing open in Roubaix. It had a lot of 19th and 20th century sculpture, drawing and painting—even fabric and fashion.
Around the pool the art tried to be water-themed; all the nudes were bathers and all the tigers were fighting lions next to the river.
The photo of the day is a silhouette of a sculpture backlit by the Art Nouveau stained glass window on one end. It took me ages to get the shot right.
Outside, the temperature had hiked above 30C so I was grateful for the coolness of the museum and probably stayed there half an hour longer than I would've otherwise. As I left the Musee de la Piscine, a father and his sons had tumbled out of their van, towels in hands.
(This next conversation take place in French.) The father asked the way to the entrance to the pool and I had to explain to him that it wasn't actually a pool. Then as I reached the street I spotted a local map and called him over to point out where the actual pool was located. He was trying to memorise the turns and I suggested that he take a photo with his phone. He looked at me like I was the smartest person he'd ever known.
I walked to Roubaix, which is a largish town in the Lille metropolitan area. Everything was shut because it was the weekend and even the town hall was unavailable for gawking at, covered in scaffolding due to renovations. I caught the metro back to Lille proper and confirmed my suspicions: the metro trains are driverless, which is why they come so often and travel so fast.
I popped into old Lille for a big pot of oolong at Unami, a teahouse I passed a few days earlier (which was closed during the public holiday) then visited L'Hospice de Comtesse, which the Lonely Planet led me to believe was a lot of horrible religious art stuffed in a Flemish style abbey but it was actually a cool old abbey that happened to have some boring religious paintings in it.
Boff and I met up in old Lille and had tarts for dinner. Not a euphemism.