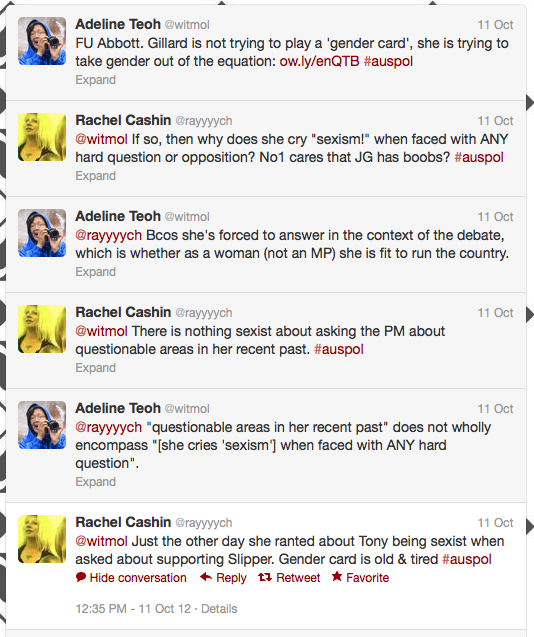 You already know this is going to be about Julia Gillard, Tony Abbott, Alan Jones, gender, media and politics so I'm not going to blame you from clicking elsewhere… now.
All right. Hello, the two of you who are left.
I had a short stoush with someone on Twitter last week. This is quite unusual for me, because I'm used to whining into the ether that is the 140-character blue bird's blah stream and getting no response whatsoever from anything I say. (Actually, that's not true. I do get @ replies, comments, RTs and favorites but that's because I rarely say things that are controversial.) It went something like this: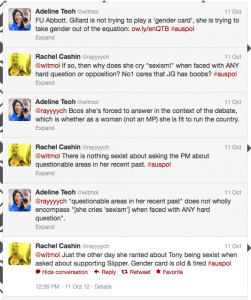 So here's the situation as I understand it:
Speaker of the House Peter Slipper once wrote a text message to his former assistant James Ashby describing female genitalia as shell-less mussels.
Slipper is currently under investigation for sexual harassment with regard to his conduct towards Ashby. The text was used to illustrate the sexualised nature of the exchange between the two. Ashby is gay.
Leader of the Opposition Tony Abbott proposed a motion to remove Slipper based on his 'sexist' text. Also because this would supposedly give the Coalition an edge in a hung Parliament.
Prime Minister Julia Gillard responded in a way that is now famous, labelling Abbott a misogynist (see video below).
Gillard was then accused of playing the gender card when it suited her.
I got annoyed.
So it seems I got annoyed without actually clarifying what I meant by not trying to play a 'gender card' and taking it out of the equation. Because Gillard does play a gender card but by doing so, it should take gender out of the equation. I'll put it this way, Gillard cannot play the gender card unless it has already been played. It doesn't work unless it has already been played. So the smart thing for the Opposition to do is not bloody well play it. But intelligence has never been their strong suit and Gillard totally owned them in 15 minutes.
I almost clapped at the end of that speech. I'm not a Labor voter and I don't even like Gillard, but I respect her and I welcome her return to form because we need someone viable to be PM seeing as I've pretty much decided to leave the country if Abbott gets elected.
Other things I believe:
Describing vaginas as shell-less mussels is not sexist. It's just embarrassing. And bad for the seafood industry.
Even if the message were sexist, a text message that was never meant for the public domain should not receive the same weight as a political statement made for many: Slipper's perceived sexism is not equal to Abbott's.
Abbott is not a misogynist. I think he has an outdated idea of what women can and can't do, which makes him sexist in an ignorant way but I don't think he goes out of his way to hate women. He just hates Gillard. He hates that she is not anything like what he believes a woman 'should be' (Christian and married with children, probably) and yet is Prime Minister.
Women aren't suited to this type of politics. It's stupidly skewed towards a male idea of leadership and governance. Women need a paradigm shift that will allow the public to recognise their talents. At the moment these are being ignored because they are not prioritised by the male idea of what is useful in government and politics.
I want to share with you this great cartoon by Cathy Wilcox as well: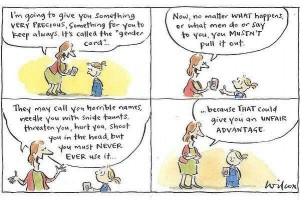 A note about Alan Jones
For those who need a quick overview: Julia Gillard's father died of shame: Alan Jones.
Something else I feel the need to tack on the end here: I do believe radio talkback host Alan Jones is misogynist. He has always been condescending about women and I actually believe he hates them and is prejudiced against them.
I don't believe he should have been hauled over the coals about his 'died of shame' comment, however. Although it was offensive I think it would have been made whether Gillard was male or female because that's how tactless Jones is. His following remark about people going easy on Gillard because she is a woman is patently wrong because she has certainly been given a harder time as a woman (can anyone think of a time a male politician has been made fun of in the general media because of his dress sense? Anyone?).
But he does deserve the heat he's getting now. The Gillard comment is what broke the camel's back. Gillard reacted because Abbott echoed the 'died of shame' comment in a different context. My partner believes he did this deliberately to get a rise out of her and show how emotionally unstable she was (possibly to link that to being a woman and therefore incapable of keeping emotion out of politics). Instead, she bit back with a very well composed retort. The tide then turned against both Abbott and Jones simultaneously.
Jones should actually have been fired/jailed/banished long ago for sedition (re: Cronulla riots), bullying and harassment. If that's not enough, there should be some penalty for hypocrisy. As soon as Destroy the Joint started picking off advertisers from his show, Jones started feeling victimised. Poor diddums. I wonder if he thought like that when he was the one encouraging people to act on their beliefs. I guess not.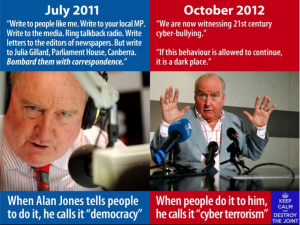 So let me close this rant by saying I hate the idea we are playing a game with politics, the media and online opinion but I am learning to accept the way it must be. One can live in hope that it will all turn out for the best*, right?
* The 'best' meaning 'a country in which Tony Abbott is not the Prime Minister'. I have met the man and I don't like him.